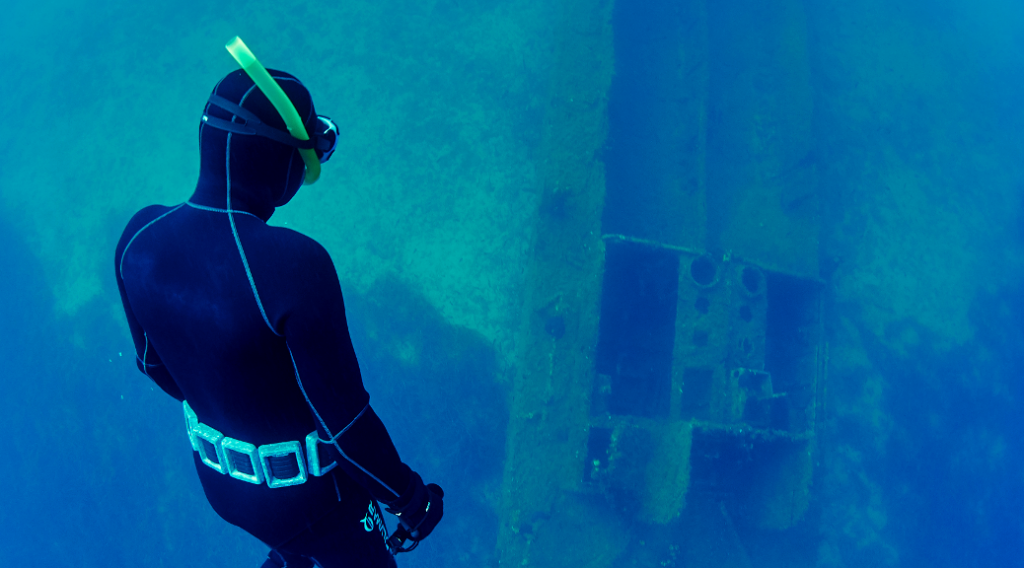 WWII Infanterientransporter (I-Boot): Kriegsmarine pro tehdy nově okupovaná území Středozemního moře a Černého moře potřebovala jednoduché přepravní lodě pro transport materiálu a jednotek. Jako odpověď na tyto potřeby německý letecký designér Fritz Siebel navrhl I-Boot. Loď s trupem 18,5m dlouhým a 4m širokým. Pro zajištění snadné dopravy po souši vlakem bylo možné loď přepravovat rozdělenou a to podélně. Obě poloviny byly vybaveny vlastním motorem, hřídelí, propelerem i kormidlem a až po spuštění do vody došlo k jejich spojení pomocí šroubů. Do přední části plavidla bylo možné umístit až 7 tun nákladu nebo po vložení dřevěných lavic až 40 pěchotních vojáků. Na příď lodi se umisťoval 20mm protiletecký kanón nebo 15mm kulomet. Posádku tvořilo sedm vojínů a jeden poddůstojník.
Video resolution: [720p], [1080p]
I-Booty byly na Jadranu intenzivně využívány k útokům na jednotlivé ostrovy a k udržování zásobování podél východního pobřeží. Vrak ležící u ostrova Levrnaka v hloubce 10-12m patří lodi, která byla pravděpodobně potopena spojeneckým letadlem někdy mezi 23.-25.10. 1944. Motory a mnoho dalších cenných dílů bylo pečlivě vymontováno a vyzdviženo ještě za války.
Navštívení tohoto vraku pokud se budete pohybovat lodí v okolí Kornat či ostrova Dugi otok lze jen doporučit. Jedná se o zajímavý autentický vrak z druhé světové války, který lze nalézt z hladiny a jehož nejhlubší část spočívá v příjemné hloubce pouhých 12m.
Jan Kepič – 22.7. 2018
(zdroj informací: Treasures of the Adriatic Sea + Internet)
Poznámka k hudbě použité ve videu:  "Přísná" slova 3 a 4 sloky písně tvořící hudební doprovod pravděpodobně dobře odpovídají okamžiku potopení lodi. Použitá upravená verze Lili Marleen se datuje o rok dříve než tento I-Boot klesl na dno u Levrnaky a je z dílny BBC.  U původně publikovaného videa na You Tube bylo vhodné tuto píseň odmazat z důvodu sice neoprávněných ovšem neustále se opakujících a obtěžujících výhrad přicházejících ze současného Německa. Historie je historie a proto je zde vloženo video s hudbou odpovídající poměrům v době potopeního tohoto I-Bootu. Více je možné nalézt na oficiálních stránách písně Lili Marleen.