Subject: Koi and water pollution
Už loni jsem koukal, že se nám "v lese" na Barboře proháněl koi kapřík a zdá se, že zimu ustál dobře. Tři přání mi na potkání nesplnil, ale podívat se přijel hned několikrát.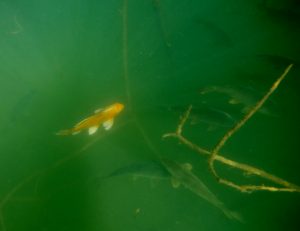 Viditelnost dnes (8.5.) u báze a na hloubkách dobrá (z hladiny jsou vidět obrysy plata v 5m). Od   golfu až na začátek lesa je opět mléko. V lese je to už o trochu lepší, ale tak na 1-1,5m maximálně. Ryby už tam rejdí v plné parádě a jen je do budoucna třeba lepší viditelnosti (tj. pravděpodobně omezení znečištění z golfového hřiště – podél břehu u golfového hřiště jsem viděl u dna 2 kapříky v posledním tažení, tak to nebude nejspíš jen znečištění z pohledu viditelnosti).